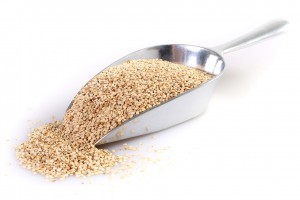 Sesame (Sesamum indicum)
Standard Qualities
sesame nature
sesame pealed
sesame roasted
sesame black
sesame press cake flour
All grades are available in conventional quality as well as organic certified.
Quality
Sesame seeds consist of 20% protein and 50% fat, mostly composed of unsaturated fatty acids and low in saturated fatty acids. They are one of the selenium-containing foods (selenium is an essential trace element that supports the metabolism and the immune system and can only be supplied to the body via food). Sesame is full of valuable minerals such as iron, calcium, magnesium, vitamin E and B vitamins and contains cholesterol-lowering phytosterols.
Our suppliers are Bio, HALAL, Kosher, ISO and HACCP certified.
Origin and Harvest
The main source of supply is India, Nigeria, Uganda, Bolivia and Paraguay.
Packing