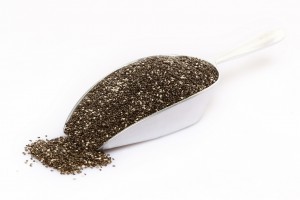 Black Chia Seeds (Salvia hispanica)
Standard Qualities
Chia Seeds black
Chia Seeds white
All products are available in conventional quality and certified organic.
Quality
Chia is according to the Novel Food Regulation (EC) no. 258/97 as Novel Food approved and there is a maximum amount indication for the daily consumption. Because of the high content of omega-3 and omega-6 fatty acids, protein, antioxidants and vitamins, the chia seeds are assigned to the product group "Superfoods".
Our supplier in Paraguay is certified organic, GMP, HACCP, Halal and Kosher.
Each lot undergoes qualified laboratory testing in independent laboratories from the beginning and is documented from production to delivery. Arriving in Germany, our own quality assurance department carries out further sensory and optical tests and has individual batches examined again in an independent and accredited European laboratory. For Bio Chia seeds, each batch is examined again.
Origin and Harvest
The seeds were already cultivated thousands of years ago by the Incas, Aztecs and the Maya in Latin America. From March to September is sown throughout, so that in August / September, the main harvest can be done.
Packing
25 kg paper bags
BigBags
According to customer request