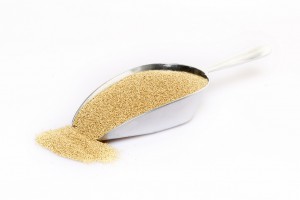 Amaranth (Amaranthus)
Standard qualities
Amaranth as whole seeds
Amaranth puffed
Amaranth flakes
Amaranth flour
All grades are available in conventional quality and certified organic.
Quality
Amaranth contains a lot of proteins (12 – 15%). It is the source of the essential amino acids LYSIN, which is scarcely found in other cereals and is rich in methionine and niacin, as well as all other essential amino acids. Above all, amaranth is rich in unsaturated fatty acids and fiber. In addition, there is a high content of iron, magnesium and calcium as well as a large number of other important vitamins and minerals.
Our supplier is certified organic, BRC, HACCP, Halal and Kosher. Our quality assurance checks the goods before shipment by samples and analyzes, after the arrival of deliveries before a delivery release.
Origin and Harvest
We source our amaranth mainly from India or Peru. The ripe umbels are harvested in late autumn and best dried in a cloth or paper bag. When the ears are dry, the sack is closed and threshed.
Packing
25 kg multiple paper bags